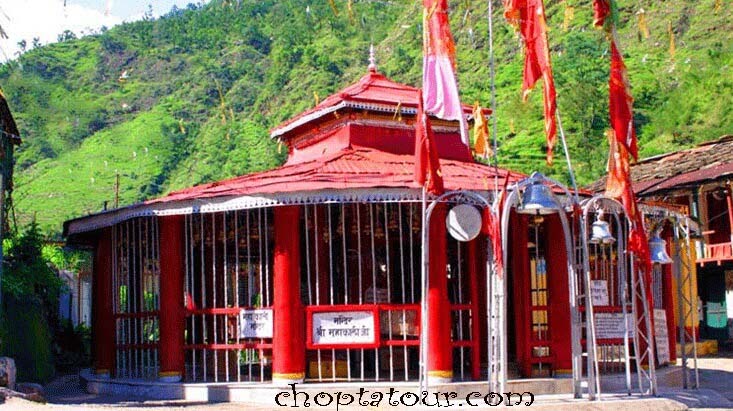 Kalimath Temple – A Revered Shakti Peeth in Rudraprayag
Get Kalimath Tour Travel Guide, How to Reach, Hotels in Kalimath, Trekking Tips.
Kalimath Temple is located at an elevation of 1250mt (4050feet) above the sea level in Rudraprayag district of Uttarakhand on the bank of river Saraswati. It is one of the greatly revered Shakti Peeth among 108 shakti Peeths dedicated to Goddess Kali as per Srimad Devi Bhagwat Mahapuran.
The temple is beautifully nestled amidst the lap of nature on the bank of river Saraswati and offers a cool, salubrious, and divine environment to its devotees. Kalimath Temple is one of the most prominent pilgrimage sites in Uttarakhand which is visited by worshippers from far and wide.
| Places to See | Tour Packages | Hotels | How to Reach | Taxi Hire | Photos |
| --- | --- | --- | --- | --- | --- |
Some interesting facts related to Kalimath
Let us tell you that it is considered to be one of the most famous and powerful temples of Uttarakhand. The special thing of this temple is that, in this temple, instead of the idol of the Goddess, a Kund is worshiped. This kund is covered with the Rajatpat Sri Yantra.
It believed that this temple is inhabited by tantra lore and the holy Kund (pond) of this temple is opened once in a year, on Ashtami in Sharad Navratri, the worship of this holly Kund performed at midnight in the presence of some chief priests.
Along with the Goddess Kali, divine deities of Laxmi and Saraswati are also worshipped here in the temple.
An unbroken flame is constantly lit in this temple and the Rashtashila, Mathangshila, and Chandrashila are located on the Kalimath temple.
The sacrificial practice was prevalent, till the 90s century, which is now abolished here. And now for the worship in this Siddhpeeth, the devotees offer raw coconut and material related to the Goddess's makeup, which includes bangle, bindi, small mirror, comb, ribbon, chunariya.
What is the best Time to Visit Kalimath Temple
The temple of Goddess Kali opened round the year and visited by a large number of devotees. To witness the best of Kalimath Temple, plan a vacation here during Navratri as the whole area celebrates the festival with joy. Our Kalimath Temple travel guide renders all the essential information for you to plan a hassle-free holiday.
Get in touch with our Travel Expert
Legends and Beliefs Behind Kalimath Temple
Some famous Hindu legends state that this is the same place where Goddess Kali killed the demon Rakt Beej and then settled underneath the ground. At that particular place where Goddess Kali settled under the ground, there is a silver plate named as Sri Yantra
There is another belief which states that the lower part of Goddess Kali is being worshipped at this temple and the upper part is worshipped at Dhari Devi Temple, which is another sacred shrine dedicated to goddess Kali situated between Srinagar and Rudraprayag.
Places to Visit in and around Kalimath Temple
Gaurikund : An important Hindu pilgrimage destination located at an elevation of 1982 meters above the sea level, Gaurikund is quite popular as the base trek of Kedarnath Temple. Devotees coming on Char Dham Yatra consider it a stopover and take a holy dip in this divine tank.
Kedarnath Temple : Seated at an elevation of 3584 meters above the sea level, Kedarnath Temple is dedicated to Lord Shiva and is renowned as the prime destination of Shiva believers. Kedarnath is also counted as one of the most significant pilgrimages in Char Dham Yatra, Panch Kedar, and 12 Jyotirlingas.
Ukhimath : Famed as winter abode of Kedarnath Temple and Madhyamaheshwar, Ukhimath is located at an elevation of 1311 meters above the sea level. Ukhimath houses numerous temples which can be visited during your Ukhimath visit.
Chopta : One of the best sightseeing destinations for offering pristine beauty and refreshing vibes along with spiritualism. Adventure enthusiasts can enjoy trekking and camping amidst the verdant valleys, undulating mountain slopes at Chopta.
Rudraprayag : Reckoned as a paradise for nature lovers, adventure enthusiasts, and solo travelers. The town is famed as a confluence of two holy rivers Alaknanda and Mandakini. There is a deep belief among Hindu devout that taking a dip in this holy water cleanses all your sins.
Kalimath 's Highlights
TEMP : May to June : 35℃Max/Min : 20℃ & up to 5℃ in Jan & Feb.

Best time to visit Kalimath :Navratras are the best Time to Visit Kalimath Temple and one can visit Kalimath throughout the year

Kalimath Situated in: Ukhimath,Rudraprayag.

Nearest Railways Station : Rishikesh (175km)/Haridwar(200km)

Nearest Airport : (200km)Jolly Grant,Dehradun.

Kalimath is Famous for : kali Mata Temple , Trekking to Kalshila, Sarswati Temple, Sarswati River, Natural Beauty,etc.
Weather in Kalimath
The region experiences humid weather along with a good amount of rainfall during monsoon season, winter is quite cold in this area, and summer gives a pleasant experience.
Kalimath in summer: this is the ideal time to visit Kalimath as the weather is quite pleasing and favorable in this season. There is a slight fluctuation in the temperature which ranges from 20 degrees Celsius to 36 degrees Celsius. The days are a little warm but cool salubrious breeze welcomes evening.
Kalimath in Monsoon: Monsoon season continues from July to September and these months are not much advisable to visit the destination. Although rainfall in the area welcomes the tourists with its calming environment and pristine vibes spread in the entire region. Do check the weather forecast if you are planning to visit Kalimath in the monsoon season.
Kalimath in Winter: December to February witnesses freezing cold in Kalimath with the dropping down of temperature from 15 degrees to zero degree Celsius. However, you may experience a warm afternoon if you are a fortunate one.
Staying in Kalimath /Accommodation in Kalimath
There are few rooms of Sri Hans Dharamshala with basic facilities available. There are many Hotels and Camps and other accommodation available near to Kalimath in Guptkashi and Ukhiamth.
Temple & places within 50 Km from Kalimath
Makku Math

Kanhula Khark/Kanchula Khark

Kedarnath Wildlife Sanctuary

Ukhimath

Sari Village

Atrimuni Fall

Ansuya Mata Temple

Kartikswami Temple

Kalimath Temple

Guptkashi Temple

Triyuginarayan Temple

Kalshila
How to Reach Kalimath Temple?
Kalimath Temple is well connected by road from major cities of Uttarakhand. No direct bus or share taxi service for Kalimath from Rishikesh, Haridwar or Dehradun.
By Air: Nearest airport is Jolly Grant, Dehradun, which is about to 165km from Kalimath Temple. There are frequent buses and taxis up to Guptkashi or Ukhimath from Haridwar, Rishikesh and Dehradun and one need to take a taxi to reach the pilgrimage from G`uptkashi or Ukhimath.
By Rail: The Nearest railway station is Rishikesh and Haridwar Railway stations to Visit this holy shrine. Haridwar is the best option that has frequent trains from all over cities of the country and it is easily accessible than Rishikesh railhead. From the Haridwar Railway Station, one can hire a cab to reach Kalimath or can take share taxis up to Guptkashi. And then can hire a shared taxi from here or could book a local cab to reach Kalimath.
By Road: the most convenient and the easiest way to reach Kalimath is to go via road transport. Numerous buses and taxis ply between the major towns and cities of the state.
Kalimath Image Gallery
Kalimath Food Guide
There are few Restaurante or dhabas in Kalimath. All Restaurants served north Indian food as well as the Garhwal food too. Give an order in advance for food, before to go for Darshan.
What is Kalimath famous for?
Kalimath is famous for, Temple – Kalimath, Trekking to Kalishila, River Saraswati, Natural Beauty, Village Tourism

Choptatour is recognized by Uttarakhand Tourism Development Board, Govt. of Uttarakhand.

Choptatour is recognized by Uttarakhand Tourism Development Board, Govt. of Uttarakhand.