Tungnath- The highest Shiva Temple (3680 meters )
Tungnath trekking guide with latest travel tips and Tungnath Temple trek updates.
Tungnath literally means 'Lord of the Peak'. The Tungnath Temple is Tritiya (third) Kedar among Panch (five) Kedars, where the arms of Shiva are worshiped. It is the world's highest Shiva Temple (at the elevation of 3680 meters or 1274 feet), situated in Chopta, Rudraprayag District.
It is said to be located on the Satya Tara Mountain because the Seven Rishi and stars had attained the boon of staying at a height hereby from Shiva Parvati. It is on just the bottom of the Chandrashila peak. Which is 1.5km from Tungnath ji
TUNGNATH TEMPLE TREK -Even at such a height, it is the most accessible trek among the Panch kedar's. One can reach Tungnath by 3.5km trek, which goes through the Rhododendron (burans) and through picturesque velvet meadows.
The initial 1-kilometer track goes through the forest and it look easy. After that the steep and tuff part starts and it goes through bugyals up to 1.5km, near to the bottom of Tungnath Ji. The mesmerizing views of Himalaya and the beauty of this valley remove your fatigue and you crossed it easily.
Lord Bholenathji's temple is visible from the last section of this trek and you have no idea when you reached the threshold of God.
Why Visit Tungnath Temple
The main entrance of the temple has a stone idol of Nandi bull, which according to Hindu mythology is the ascension of Lord Shiva. Statues of popular Hindu saints such as Kaal Bhairava and Vyasa are also enshrined in the temple with images of Pandavas. Also, small shrines of various deities can be seen around this temple.

It believes that, if you offer a practice of a drop of water and akshat on the Shivling in Tungnath Ji, you will reside in Shivaloka for thousands of years. And the recognization that, a person who visits the Tung region even once in their life, and then if his / her death will be anywhere in the world, he will surely get salvation.
You will not stop to yourself to capture the picture of Tungnath temple with the Himalayan Mountains offering a majestic backdrop.
Lord Shiva exists in the same form in Tungnath as in Kedarnath ji. Hence, worship is equally important in both places.
Legend / History of Tungnath Temple
Information about the construction of the temple is found that it was established by the Pandavas to pleased Lord Shiva. The story behind it is that the Bholenath was disgusted with Pandavas due to the massacre in Kurukshetra by him, only then this temple was built to please him.
Apart from this, it is also believed that Mata Parvati also did penance here to get Shiva.
Tungnath Recap
TEMP : May to June - 20℃Max/Min -10℃ & up to -20℃ in Jan & Feb.

---

---

Altitude of Tungnath: 3680 meters/ 1273 feet.

---

---

Tungnath Trek length: 3.5 Km

---

---

Tungnath Trek Grade: Easy in summer and Difficult in Snow.

---

---

Best time to visit Tungnath :(Sep-Dec.)/(March-June).

---

---

Tungnath Situated in : Chopta,Rudraprayag,India.

---

---

Recommended Stay : 2 Days and 1 Nights.

---

---

Tungnath is Famous for : Scnic beauty, Trekking,Bird Photography,Sunset Sun-Rise,Chandrashila Trek.

---

---
Tungnath Travel Guide & Tips
There are some very helpful travel tips to plan your trek to Tungnath.
Tungnath trek is for first timers to exploring the best of Himalayas.

Tungnath trek required the basic fitness level can do with kids.

Tungnath trek turns difficult in winter and we recommend do it with the help of trained local guide and proper snow equipment.

Always keep light jacket and rain coat in your back-pack during Tungnath Trek.

Nearest ATM is at Ukhimath that is about to 25 km from Chopta. At Present few of property owners allowing guest to do digital transaction but it is better to carry cash because it is difficult to find network most of time.

Keep with you min. 2 liter water bottle while trekking to Tungnath trek.

Nearest market is Ukhimath, one can collect essentials on the way to Chopta if one is travelling via Rudraprayag.
Chopta -Tungnath Tour Packages
What to see in Tungnath /What is Tungnath famous for
Tungnath Temple -:

Tungnath ji is Triteeya (third) Kedar among Panch Kedar. Tunganath Ji (Lord Siva) temple is the only temple in the world at this height (3680mt) from sea label. Chopta Tungnath region has its own religious and spiritual importance since ancient and Vedic time/era.
Rawan Shila -:
There is a Ravana rock near the Tungnath temple. It is said that Ravana did penance to Lord Shiva here. The Views of the valley from Ravan Shila are amazing.
Alpine Research Center Tungnath -
The Alpine Research Station at Tungnath (3600m a.s.l.) stablish by High Altitude Plant Physiology Research Centre (HAPPRC), Srinagar Garhwal University. This centre is for the research of the sensitive plant species i.e. rare, endangered, and threatened. You can earn good knowledge about alpine herbs and their uses.
Akash Ganga -:
it is a small Dhara (stream of water) in Tungnath ji. The Akash Ganga flows through the velvety grasslands descending from the hills of Tungnath (Click her for Detail)
Himalayan views -:
– A spectacular view of the Himalayas is seen from Tungnath. From Bandar punch to Chaukhamba there is more than 10 picks that can be visualized.
Get in touch with our Travel Expert
CHECK OUT
Hotels in Tungnath:: Camping in Tungnth :: Chopta Tungnath Trek Packages
Accommodation / Hotels in Tungnath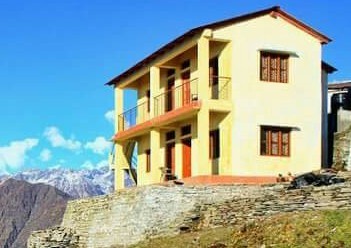 Baba Kali Kamli Dharamshala
Things to do in Tungnath/ Activities in Tungnath
Trekking:–
Trekking to Tungnath from Chopta is a splendid experience in itself that goes through forests and Bugyal. The majestic view of Himalaya from this trek attracts most of the tourists. This 3 km trekking is famous among nature lovers as well as in Pilgrims.
1.5km trek ahead from Tungnath reaches you to Chandrashila
Camping in Tungnath :–
Camping was the best way for night stays in Tungnath before the ban imposed on camping by the forest department in this area. At present, Dharamshala is the only option for night stay at Tungnath ji, and in these Dharamshala can occupy a maximum of 20 people only. So, please book your accommodation first before reaching here.
Photography around Tungnath :-

Most of the tourists come for a night stay in Tungnath ji to capture the pictures of the early morning sunrise as well as sunset image from the Chandrashila peak. And those who are religious tourists come with their main objective of observing the evening arti in Tungnath.
At present, the movement of nature-loving tourists in Tungnath has increased considerably, who are desperate to capture the views of the valley on their cameras. it is the best place for those photographers who eager to take pictures of different shades of the mountain due to the sun rays that fall on the mountains.
Other than that Tungnath is one of the best places for bird photography specialy for Monal,Snow partridge,and koklas pheasant.
Bird watching in Tungnath:-
Tungnath is a bird watcher's paradise. This place is famous for for the sighting of Monal, Snow partridge, Koklass, and Cheer pheasant. Sighting of Monal is common in this area in November and December. November -December, and March to the end of April is the time to sights of this beautiful bird.
The best time to spot monal and other birds around Tungnath is after closing the kapat of God Shiva.
Tungnath Weather Updates
Best time to visit Tungnath - Summer and Winter (Snow Trek)

---

Tungnath in Summers - Pleaseh Weather in Summer - Max 20

---

Chopta in spring - It is white with violet mixed rhododendron flowring time

---

Chopta in monsoon - 3 Month Rainy season - July to mid September : Green Medows small flowring Everywhere

---

Chopta in winters - Only for adventures lover (Good time for snow trekking) (Min -20)
Tungnath News, Post / Articles
Tungnath Photo Gallery
Staying Options in Tungnath
There are few budget Lodges and 2 Dharamshala in Tungnath with limited numbers of rooms with basic amenities and services at Tungnath for tourists and pilgrims.
Most of the tourists prefer staying at Chopta or Duggalbitta which has a handful of accommodation and Swiss Tent Camps. We recommended Camps are best to stay in Chotpa.
Book Hotels/Accommodation in Tungnath with us at Best Prices. Get 15 days advance free Cancellation. We offer to book you all hotels and Dharmshala in Advance
Tungnath Food Guide
There are a maximum of 6 to 7 basic dhabas in Tungnath which offer maggie, tea, dal, rice, seasonal vegetable to the trekkers and pilgrims. Non-vegetarian food and alcohol is strictly prohibited at Tungnath.
We advise you to order lunch in advance at Tungnath by your Accommodation manager or guide in Chopta.