Omkareshwar Temple Ukhimath | Omkareshwar Peeth Ukhimath
Get Information about the Omkareshwar Temple and  Mythology fact.
Omkareshwar Temple or Omkareshwar Pith is an ancient Hindu temple in Ukhimath, in the Rudraprayag district of Uttarakhand. Moreover, it's home to Kedarnath and Madhmaheshwar deities during peak winters. Hence, during the season of heavy snowfall both of these deities are worshipped here in Omkareshwar temple. It is elevated to a height of 1300 meters.
The magical snow peaks of the Himalayas are seen from Ukhimath town and it has been declared as a Nagar Panchayat in July 2012.
Omkareshwar Pith is 41 km away from the holy confluence of Alaknanda and Mandakini that is Rudraprayag.
Ukhimath or Okhimath extends it land to many more centuries-old temples dedicated to Gods and Goddesses such as Usha, Shiva, Aniruddha, Parvati, and Mandhata. However, mainly the head priests of Kedarnath known as Rawals live in the town. Also, it is a part of the Char Dham yatra tour destinations within Uttarakhand
Ukhimath Highlights/Recap
TEMP : May to June - 32℃Max/Min -18℃ & up to 0℃ in Jan & Feb.

Best time to visit Ukhimath :Throughout the year

Ukhimath Situated in:Rudraprayag District of Uttarakhand.

Recommended Stay : 2 or 3 Nights and 3 or 4 Days.

Nearest Railways Station : Rishikesh (170km)/Haridwar(190km)

Nearest Airport : (190km)Jolly Grant,Dehradun.

Ukhimath Town is Famous for :Scenic beauty,Chopta Chandrashila Trekkings,Trekking to Deoraital, Omkareshwar Temple - Winter Seat of Kedarnath ji and Madmaheshwa,Birding,Village Tourism etc.
| Places to See | Tour Packages | Hotels | How to Reach | Taxi Hire | Photos |
| --- | --- | --- | --- | --- | --- |
What is the significance of Omkareshwar Temple Ukhimath?
Omkareshwar Temple holds significant importance as the winter seat of Lord Kedarnath and Madmaheshwar as the route to these remains shut during winters. Hence, the idols of the deities are carried to Omkareshwar Temple Ukhimath on Bhaya duje and worshipped here for the next six months.
Eventually, these deities travel back to their own abodes in a procession that is organized in the month of April or in May (A religious ceremony held on the occasion of Maha Shivaratri is the day when the muhurta of opening the kapat announced.). Furthermore, the idol of Mandhata, a king and an ancestor of Lord Rama also sit inside this temple.
Ukhimath is also a doorway to different places such as Madhmaheshwar (Second Kedar), Tungnath Ji (Third Kedar) and Deoria Tal and Chopta (a natural freshwater lake).
What is the history of Omkareshwar Temple Ukhimath?
Mythology says that Omkareshwar Temple in Ukhimath was the venue for the wedding of Usha (Vanasur's daughter) and Anirudh (Lord Krishna's grandson).
Moreover, earlier Ukhimath was popular by the name Ushamath that was inspired by Vanasur's daughter Usha. Furthermore, legends state that Mandhata worshipped Lord Shiva here for 12 years, standing upright on one leg.
King Mandhata stood on one leg and worshipped Lord Shiva at this place for 12 years. Hence, wooed by his worship Lord Shiva appeared before him in the form of Omkar. That's how the temple got its name.
Get in touch with our Travel Expert
Uhimath Travel Tips
Omkareshwar Temple in Ukhimath is a winter seat of lord (Shiva) Madmaheshwer & Kedarnath. The deities are bring back in winter so you can worship the lord Shiva here.

Ukhimath is also a doorway to different places such as Madhmaheshwar (Second Kedar), Tungnath Ji (Third Kedar) and Deoria Tal (a natural freshwater lake) and the beautiful hill Station Chopta.

Ukhimath has all type of shops (cloths and other essentials), Medical facilities, Star Hotels, Travel Services,ATMs and Tourist information Center.
What are the festivals celebrated at Omkareshwar Temple Ukhimath?
Temples around the Omkareshwer, Ukhimath
Hotels in Ukhimath/Accommodation Near Omkareshwar Temple Ukhimath
Ukhimath is a Small Town and has Many Accommodations with all essential amenities. The town has many budgets and some Star categories hotels.
Hotel Madhuganga is the best Hotel in Ukhimath town and has almost 40 plus rooms with all luxuries facilities (bar, Jim and conference hall, etc) and one another star Resort of Magpie Group is on progress here. Other than these two-star Properties GMVN Guest House is available in Ukhimath. Book all Hotels/Resorts and budget Lodges in Ukhimath with us at the best price.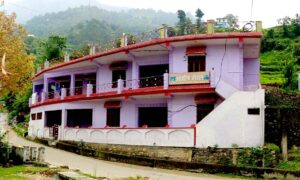 Himalayan Mountain Home Stay
Ukhimath Food Guide
Being the Oldest Town and the main point of Chardham yatra, Ukhimath has some good restaurants and they serve all types of cuisine (North Indian, Chinese, and continental) during Chardham season time as well as in off-season (Char Dham). It is best to place to buy organic products as well as handicrafts.
How to reach Omkareshwar Temple?
Here's how to reach Omkareshwar Temple Ukhimath, a destination of the Char Dham Yatra-
Air: The nearest airport is Jolly Grant Airport in Dehradun. It stands 195 km away from the temple.
Train: The nearest railway station is Rishikesh. It is 175 km away from Omkareshwar temple.
Road: Omkareshwar temple is present on the Gopeshwar-Mandal road. Hence, it is at a distance of 2 km from Ukhimath taxi stand where devotees can reach via bus or taxi from Rishikesh.
Omkareshwar Temple Photo Gallery