Kachula Khark | Musk deer Breeding Center
We provide all type of information about Kachula Khark - Musk deer breeding Center and nearby, Places to see, Tour and Travel Tips, Hotels, Camps
Kanchula Khark was declared as an animal sanctuary area in 1972 for the preservation of Kastura deer(Musk Deer)in 1982, the Musk deer breeding center was established in Kanchula Khark in Chamoli district, near Chopta within 5squar Km area with the help of UNESCO.
The area of the breeding center is surrounded by thick alpine forests, and it is famous for its biodiversity. In 1981, 1 male and two female musk deer were brought to Kanchula Khark. After the breeding of antelopes, 66 antelopes were born here. In the year 2004, 4 musk deer were sent to Darjeeling, after which only one musk deer remains in this center and at the present time no musk deer left at Kanchula khark Musk dear breeding center.
Musk deer usually has 30-45 grams of musk, which is in high demand in the market. The price of 1 gram of musk is estimated at 50 to 60 dollars in international markets. As a result, it is being poached.
Famous treks in Chopta!
Chopta is a small settlement within Kedarnath wildlife sanctuary in Rudraprayag district of Uttarakhand. Chopta is well connected by all the major cities of Uttarakhand. It has more than 5 trekking destinations around. Chandrashila, Tugnath, Deoriatal, Atri fall, Ansuyamata Temple, Rudranath, and Bisudital are some treks around Chopta. Tungnath-Chandrashila & Deoriatal are famous treks done by most tourists.
Get in touch with our Travel Expert
Kanchula Khark Weather Updates
Best time to visit Kanchula Khark - Summer and Winter (Oct to December) (For bird and animal sighting)

---

Kanchula Khark in Summers - Pleasant Weather in Summer - Max 25℃

---

Kanchula to Chandrashila Trek in spring - It is white with violet mixed rhododendron flowring time

---

Kanchula to Chandrashila trek inn monsoon - 3 Month Rainy season - July to mid September : Green Medows small flowring Everywhere

---

TEMP : May to June - 25℃Max/Min -15℃ & up to 2℃ in Jan & Feb.
Chopta -Chandrashila News, Post / Articles
Staying option in Kanchula Kharak
Kanchula khark was a musk deer breeding center established in 1982 and there is an accommodation/forest Guesthouse at Kanchua Khark but it is not operational for tourists at present. Most of the birders come back to Bhulkan near Chopta afer birding at Kanchula khark and there are 4 Hotels in Bulkan near Kanchula Khark for Night stay.
Kanchula Khrak Food Guide
One has to come back after birding in kanchula khrak to Bhulkan or can drive 7km down to Mandal for local food and that too is available even in offseason in both the places. it depends upon to you where do you want to go for lunch.
Is Kanchula Khark is a paradise for bird watchers?
Yes Kanchula Khark is also famous for birding among the birders because it has a natural landscape that attracts birds, has around, water rivulet, shrubs, agricultural fields, and weather that makes the perfect home for birds.
Various birds can spot around Kanchula Khark are Whiskered Yuhina, Oriental Turtle Dove, Himalayan Woodpecker, Chestnut-crowned Laughingthrush, Dark-sided Flycatcher, Little Forktail, Bar-tailed Treecreeper, Ultramarine Flycatcher, and if you are lucky the Eurasian Woodcock, etc.
Chopta (Kanchula Kharak) - Trekking Tour and Travel Packages
Kanchula Khark Travel Tips
Kanchula Khark has a small in-between Chopta to Mandal and there is no dhaba (Restaurant) so, bring your packed lunch if you are here for birding.
Carry Water bottle while you are for birding near Kanchula khark in summer. it is good to carry your own water bottle while you are on birding.
There are 4 Hotes Near Kanchula Khark at Bulkan Near Manal Point.
If you are for birding near Kanchula Khark and you want to do birding near Kanchula khark and Mandal,Monal point near Bulkan,Chopta, then you choose you Stay at Bulkan or at Mandal.
What to see In Kanchula Khark?
The climate of Kanchula Kharka is not favorable Musk deer now. There is currently not a single musk deer in the Kachula Khark Deer Breeding and Conservation Center, so now only the name is left of Musk deer.
In present this area is famous among birders for bird watching if you are lucky you can spot Eurasian Woodcock in winter. As well as other birds can spot in this area like- Monal, Kalij pheasant, striated laughing thrush, etc.
Activities at Kanchula Khark
Hiking
Hiking is one of the best activities that can be done at Near Kanchula Khark. Through this one can have a close encounter with the different bird species and its amazing sight for folra and fauna, one can sight Bharal and other animals in the evening and morning time at Kanchula khark. The View of Nanda Ghunti attracts tourists from Kanchula khrak. Moreover, enthusiastic individuals can hike to the nearby spots like Mandal,Bhulkan,and some villages of Pokhri from Kanchula khark.
Trekking
Trekking to Chandrashila can be done from Kanchula khark (Bulkan). It is a good trek for birdwatchers and nature lovers who do not want crowds while trekking to Chandrashila, even in peak season.
Village tour
The best way to learn about the culture and traditions of a village is a village walk or tour. The people of Mandal near Kanchula khark are very friendly and warm welcoming. By communicating with them one can understand their lifestyle. Try some local cuisine if possible buy some local handmade items as a memory.
Photography
As most of us carry cameras with us whenever we go for a trip to capture the beautiful sight and make it memorable. Similarly, this place provides ample opportunity for photography with its picturesque sites. Here one can capture the amazing site of different varieties of bird species and the beautiful evergreen forest.
  CHECK OUT - Trekking in Chopta :: Camps of Chopta
Hotels / Homestays at Bhulkana Chopta - Near Kanchula Khark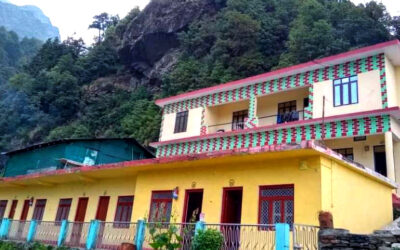 Hotel Chopta Green View Bhulkan
Sun Rise Resort Bulkan,Chopta
The Himalayan Bird Resort Bulkan,Chopta   
Hotels and Camps/Lodges who are not listed with us at Bulkan, Chopta can share their detail with the latest photos and available facilities at [email protected] If you find any inapt Hotels or Camps in Makkumath Village listed with us, please mail to us at the same email id, so that we can update/remove it to provide the best information to our visitors. Thank You!